The 10 Best Jobs in Canada for 2017
With the cost of education rising faster than inflation and stories about the challenges of working in a gig economy, some may question the value post-secondary education.  Is it worth the cost?
The frustration is real for young people striving to start or advance their careers but the latest Canada's Best Jobs list gives reason to take heart. A quick scan through the top jobs list give a clear answer – planning for a post-secondary education whether it is college, university, trade school or apprenticeships is a must.
Here are the top ten jobs in Canada according to Canadian Business Canada's Best Jobs ranking: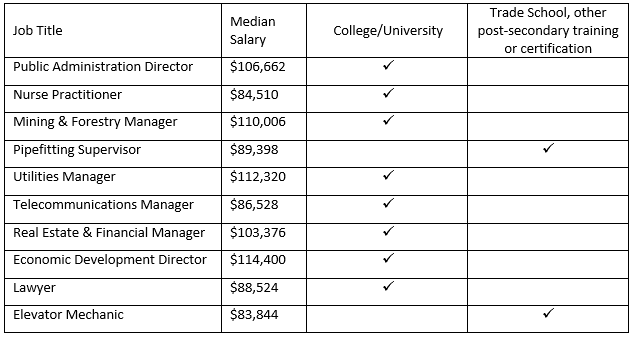 When it comes to overall employment opportunities, the value of post-secondary education is echoed by the latest projections from the Canadian Occupational Projection System. Economic growth and replacement needs are expected to create 5.95 million job openings between 2015 and 2014. Two-thirds of these positions will require college, university or vocational education.
Other benefits of post-secondary education
A rewarding career is not just about the money. Job seekers are motivated by many other factors – work with meaning, social responsibility, work-life balance, and the list goes on.  According to global education trends watcher, the Organization for Economic Co-operation and Development (OECD) reports that those with a post-secondary education will enjoy greater employment stability, better health, and a higher level of overall life satisfaction.
Find Your Best Job
The top jobs in Canada list is an interesting place to start planning for post-secondary education and there are many ideas to explore. It seems the economic payoff of continuing education holds true over the long run – but it's also good to remember that the value of post-secondary education is can't be measured by money alone. Education opens the doors, broadens horizons and enriches lives.
Take all of this consideration, it quickly becomes clear the first step to preparing for a child's education is by starting now and opening a registered education savings plan (RESP) from Knowledge First Financial. With government grants to boost your savings by up to $7,200 with the Canada Education Savings Grant and tax-deferred growth, an RESP is the best way to save for post-secondary education.
Author's Bio
​Judy lees

​Judy lees is a super-connector with AYC Web Solutions who helps businesses find their audience online through outreach, partnerships, and networking. She frequently writes about the latest advancements in digital marketing and focuses her efforts on developing customized blogger outreach plans depending on the industry and competition.