Have you found that you enjoy having a mattress topper, but get tired of having to replace them regularly? Just like any other product, mattress toppers will begin to lose their effect after regular use. Getting a latex mattress topper is a great option if you're looking for something that will be durable and long-lasting. Latex has a reputation for longevity.
Latex mattress toppers are also firm and supportive. Latex is a great alternative if memory foam material hasn't been working for you. Having a comfortable mattress topper can make a huge difference in your sleeping patterns. You can have all the comfort of a new mattress without the cost of replacing your old and ragged one. Looking at these latex mattress topper reviews here will help you find your best option.
Our Favorites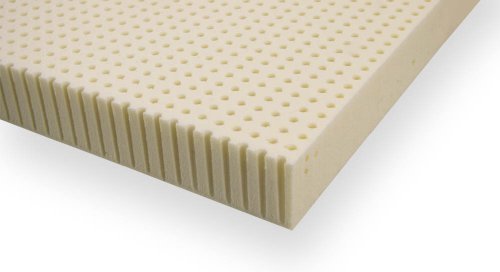 This Latex Mattress Topper, made with bamboo, is one of the best latex mattress toppers on the market. It will provide enough firmness and support to cover up any sagging parts of your mattress. It also will keep your spine and neck in their natural alignment as you sleep.
Reviewers for this product have really enjoyed that it is very soft and feels quite comfortable. At the same time, it doesn't compromise on providing the firmness and support that side and stomach sleepers need to have. You are able to order from a wide range of densities. Reviewers have mentioned that they found the customer service to be really helpful in finding the density that was right for them.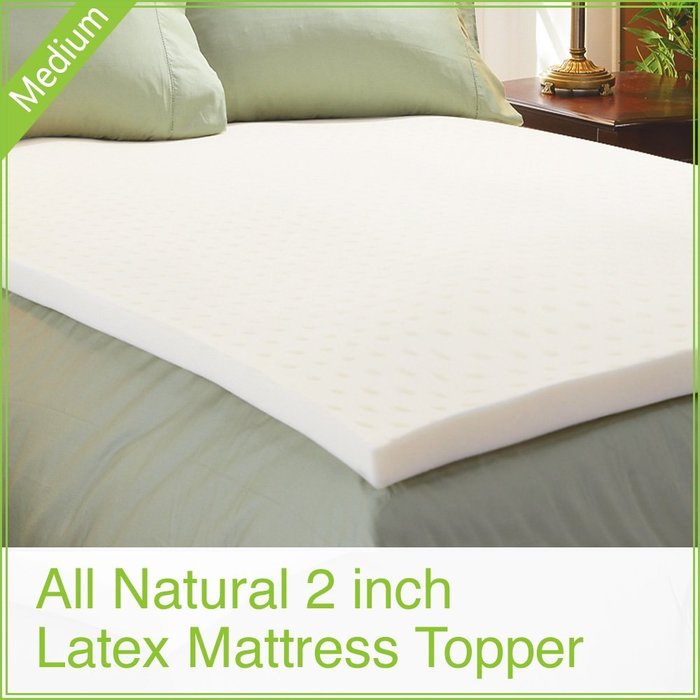 The Organic Latex Mattress Topper from OrganicTextiles is a great choice for anybody who is sensitive to dust mites or mold. Latex material is generally the best for those who have skin allergies. With no chemical additions, this mattress topper is anti-microbial and hypoallergenic. Reviewers have been impressed by how soft it is and also by its longevity. Latex material is known to be durable and this mattress topper is no exception.
This particular model is two inches thick, so it won't be as firm or dense as others on the market. If you're looking for a good latex mattress topper with average density, this is a good choice for you. It is considered to be "middle of the road" in that it isn't too firm or too soft.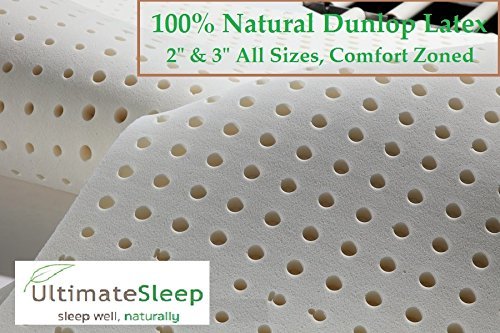 The Natural Latex Foam Mattress Topper is a combination of foam technology with natural latex. It has all of the typical benefits of latex, such as being hypoallergenic and anti-microbial, along with the support that foam technology brings. With two inches of thickness, this mattress topper will provide enough firmness and support for most people. Side sleepers especially have reported that they found this mattress topper to be comfortable for them.
Latex foam also lasts just as long as normal latex, making this a durable and long-lasting mattress topper. It also will remain cool during the night, which is essential for those who overheat while they sleep. Reviewers have commented that it has felt breathable and felt cooler than a normal mattress.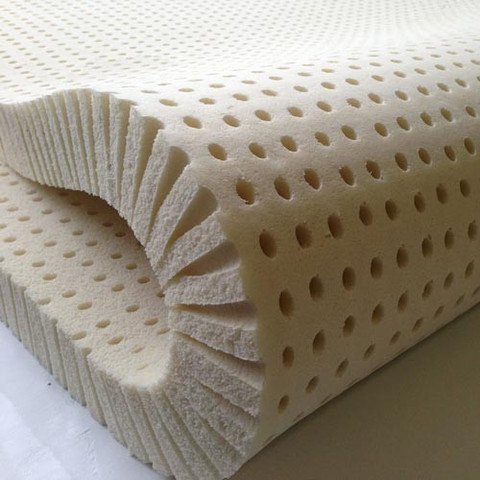 This Pure Green Natural Latex Mattress Topper has a reputation for medium firmness and support. For some people, too much firmness and support can make it more difficult to sleep at night. If you fall into that category, this two inch thick natural latex mattress topper is a good fit. It won't have the firmness and support of a thicker mattress topper, but it will have enough to support your spine as you sleep.
Reviewers have remarked that there is little to no chemical smell for this mattress topper. One benefit of purchasing this mattress topper is that it doesn't have any synthetic latex or fillers. It has a good reputation for using all natural material. Reviewers with back and joint pain reported that they had less pain and soreness after using this mattress.

Our final mattress topper on this list is the Dunlop Latex Mattress Pad Topper. With two inches of thickness, it has the firmness and support that many people are looking for. Reviewers said that they found it relieved pressure on their body during the night. Some side sleepers and back sleepers have both found that this mattress topper helped to relieve their pain.
It is softer than many other latex mattress toppers. Other side sleepers and back sleepers have said that it was too soft for them. If softness is a priority for you over firmness, this mattress topper will be a good fit. One benefit of this mattress topper is that it is designed to be reversible. If it begins feeling worn out, you can just flip it over and use the other side.

Conclusion
As you've seen, there are several different types of latex mattress toppers available. Regardless of your personal preferences, you can find a latex mattress topper that works great for you. The latex material will keep away dust mites and mold, keeping you safe from skin allergies as you sleep. It also will reduce your back and neck pain.
A good mattress topper will make your nights worry free and latex mattress toppers can do exactly that. They are a great combination of softness, support, and sanitation. Most importantly, a latex mattress topper can help you wake up feeling rested and refreshed in the morning.
*Images sourced from Amazon.com