How to Prepare Your Office for Its First Day of Business
After months or years of daydreaming and preparation, you're finally ready to open the doors to your new business and let customers inside. Hopefully, you've been thinking about the business from your customers' point of view during the planning process. A little preparation will go a long way toward making your opening day go smoothly. You can carry that customer-centric thought process into your physical space.
Make the Space Welcoming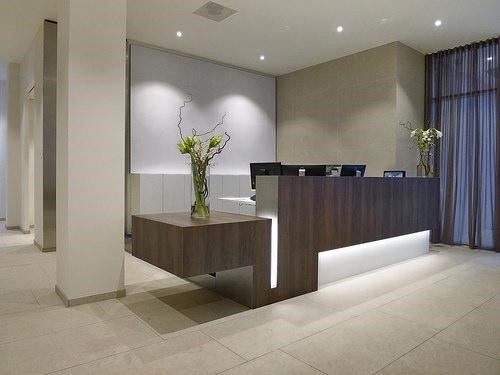 Image via Flickr by Ben Kraan Architecten BNA
Everything you need to do business is in place, but have you taken the time to make sure your office creates the right mood? Think about the emotional response you want from your customers, a response that should be specific to your business. A spa or salon, for example, might want customers to feel indulged and spoiled. An attorney or CPA may want to impress clients with a sense of authority, respectability, and affluence.
One element that's universal in all offices is that customers should feel welcomed. Enter your own space and check the view from the doorway. Is someone there to greet you with a smiling face? If that person is away, is it clear how you should let the business know you need attention? Are there comfortable chairs for waiting and a place to hang coats?
Go Big or Go Home
If you still need to dress up your space to get the look you want, don't fall into the trap of collecting many small decor items and creating clutter. Buying a dozen $29 items may feel painless compared to buying a single $350 item, but the cost is the same and the impact is different.
Walls are best left completely bare or decorated with a single piece of oversize artwork — a collection of tiny pictures can feel random and stingy. This rule applies to curtains, too. They should feel generous, with folds of extra fabric and deep valances. Curtains that are too short, or ones that barely cover the window, look cheap — you're better off with bare windows.
Plants bring energy and life to any setting, but one huge palm tree is much more effective than five spindly houseplants. If you have much smaller items to display, such as educational certificates, photos, or decor, group them to fool the eye into seeing them as one large item.
Mind the Details
Is there a welcome mat for people to wipe their feet and a place to put umbrellas? Do you have enough pens for customers to use? Are there enough coffee cups and water cups and extra toilet paper and soap in the restrooms? Mentally walk through a customer visit and be sure you have everything they need.
Are you ready to accept payments? Make sure you have some cash available so that you can offer change if customers want to pay with cash. Smaller offices can use a tablet computer or a smartphone with an impressive screen size such as the Galaxy S7 Edge to process credit cards. Make sure you're using a reliable communications network, such as the 4G LTE network from T-Mobile, so that you don't frustrate your customers with a lack of service when they're ready to make payments. T-Mobile's reliable network, for example, allows you and your employees to make calls and send text messages from any accessible Wi-Fi connection point.
How Grand Is Your Opening?
Opening day is a great opportunity for publicity. Can you plan yours as an event and invite media coverage? All you have to do is bring in some snacks and offer some free services, lectures, or demonstrations. Many businesses have a "soft opening" first, then schedule a grand opening event after a week or two of smooth operations. You can also maximize your opening with a VIP night before the grand opening. Invite dignitaries, vendors, potential customers, and friends of the business for cocktails and a sneak peek to help build strong relationships and generate some business buzz.
Preparing for opening day can be nerve-wracking, but it's also an exciting time for a new business. Once you have everything in place, this is the time to relax and enjoy the results of your hard work.